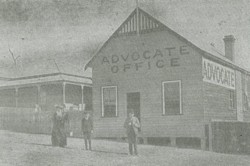 The Gloucester Advocate is the Gloucester community newspaper, their information source and voice. Our beautiful valley is steeped in culture, history and natural attractions.

The Gloucester Advocate is the primary source of local news for the community and has close contact with the people. It also keeps up to date with local events and occasions, providing an information source for visitors.

The Gloucester Advocate was established in 1905 and is published weekly on a Wednesday.

For more information or to place a story, please feel free to contact us by phone (02) 6558 1012, post - PO Box 12, Gloucester NSW 2422, email editor.gloucester@ruralpress.com, visit our office at 21 Denison Street, Gloucester, or fax (02) 6558 2100.

The old Gloucester Advocate office in Barrington Street, circa 1930.